According to an article on Kotaku.com, Marvel vs. Capcom: Infinite was revealed today during and will be coming out late next year.
Rumors began circulating earlier this week that Capcom would reveal the latest game in its cross-over fighting series at this weekend's PlayStation Experience. This is the trailer:

Video Courtesy Of Marvel Entertainment
It's been just over five years since the last Marvel vs. Capcom game was released. Marvel vs. Capcom 3came out in 2011 for Xbox 360 and PS3. Sony revealed that the Ultimate edition which followed it later that year is available again exclusively on PS4 starting today. Gameplay for the new game will be revealed during tonight's Street Fighter V tournament.
According to the PlayStation Blog, the game will include, among other things, "single player Arcade, Training and Mission modes, a visually stunning and immersive cinematic Story Mode will put players at the center of both universes as they battle for supremacy against powerful forces and a new villain."
Capcom's license for the Marvel characters expired in 2013, however, meaning the games stopped receiving updates within a couple years release. Ultimate Marvel vs. Capcom 3 and Marvel vs. Capcom 2were pulled from PSN and Xbox Live as a result.
But whereas those games featured X-Men characters like Wolverine and Magneto, the new game is likely to focus more on heroes popular in Marvel's current cinematic universe like Ant-Man and the crew from Guardians of the Galaxy. After all, the name itself links it to Marvel's upcoming Avengers: Infinity Wars movies.
The series got its start on PlayStation with the console port of X-Men vs. Street Fighter in 1998, and this would be the first entry not to include everyone's favorite mutants. This led to lots of speculation about how their absence would affect the game's competitive scene. Marvel vs. Capcom 3 has been a mainstay at fighting game tournaments like Evo for several years now. Either way, this dude in the top right corner is PUMPED: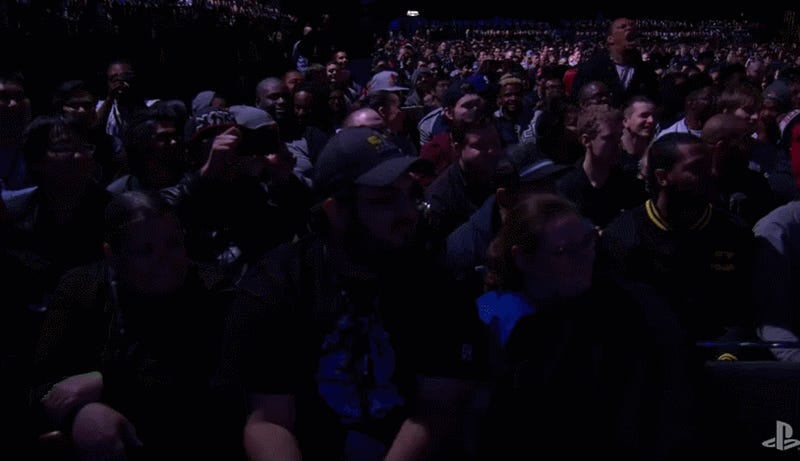 Marvel vs. Capcom: Infinite will be the eighth game in the series. A more complete list of the upcoming game's features are as follows:
Reborn Rivalries: Universes collide once again in this all-new crossover clash for the ages, where players select their favorite Marvel and Capcom characters and engage in accessible and action-packed 2v2 partner battles.

Infinite Power: Pulled from classic Marvel lore, unique and game-changing Infinity Stones can be implemented into players' strategies as a way to influence the outcome of battle. Each Infinity Stone provides a unique advantage to the player and represents a different aspect of the universe: power, space, time, reality, soul, and mind.

Iconic Heroes: Choose from a diverse roster of fan favorite characters pulled from Marvel and Capcom universes, including Iron Man and Captain America from the Marvel side, and Ryu and Mega Man X from Capcom. Many more playable characters will be revealed in the future.

Cinematic Story: Heroes and villains battle for supremacy in a timeless struggle set in the Marvel and Capcom universes. The original storyline answers the questions regarding the new clash and lets players step into the shoes of classic characters from both sides as they wage war against powerful forces in an attempt to defeat a new villain.

Accessible Single Player Content: In addition to the cinematic story experience, players can hone their skills in a variety of accessible single player modes, including Training, Mission and Arcade modes.

Vast Multiplayer Features: Robust online modes and content including ranked and casual matches, global leaderboards, and online lobbies with spectator mode deepen the overall experience.

Graphics: Unreal Engine 4 technology pushes the cinematic visuals and next-gen realism into a new era.

Source:vgamermagazine.com